Imagine A Hot Air Balloon At Your Special Occasion or Event!
What is a Tethered Hot Air Balloon Ride?
A tethered ride is simply a short and safe up and down flight inside the balloon basket while the balloon is tied securely to ground support. This allows us to provide an experience for a large amount of people and may be more comfortable for some people than traveling to higher altitudes. It's a fun experience for many occasions and events!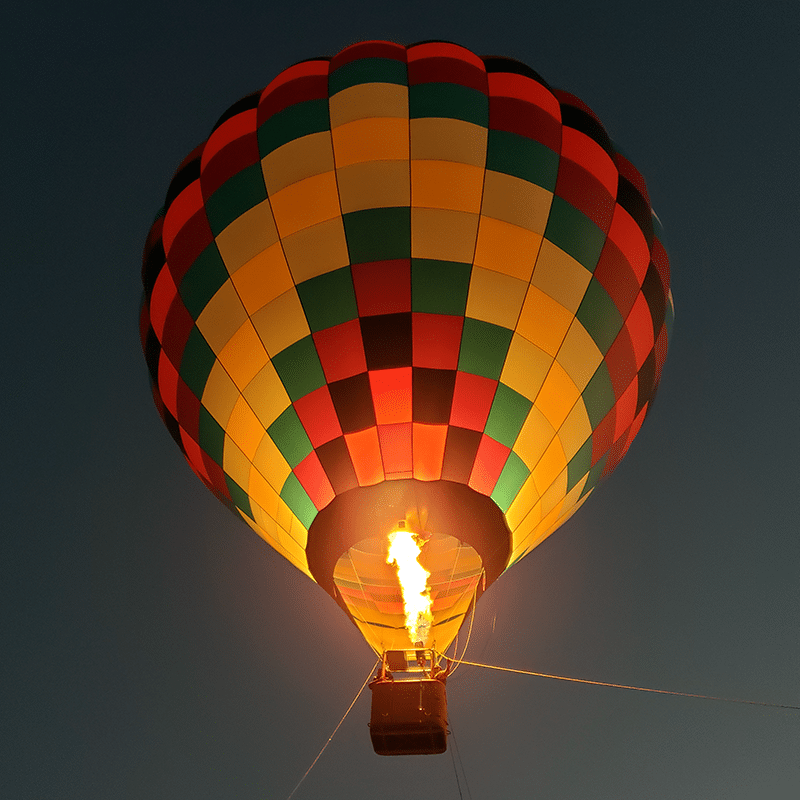 $4,250 for 2 hours (plus travel)
$1,500 for each additional hour
80 passengers per hour average
Includes custom baskets with doors for ease of passenger loading and unloading
Travel expenses are additional, if travel is necessary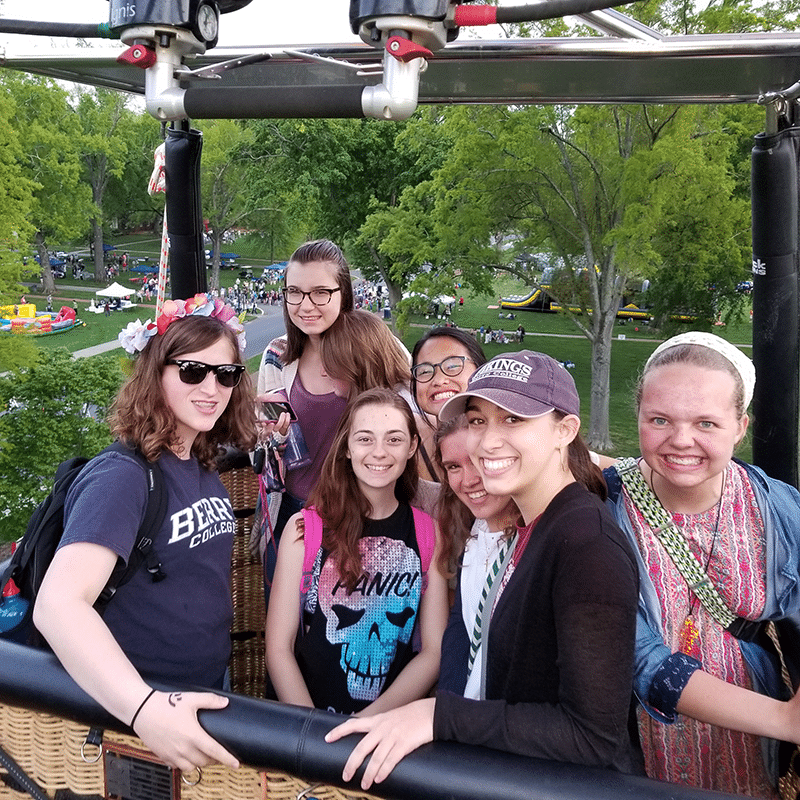 $4,950 for 2 hours (plus travel)
$1,800 for each additional hour
120 passengers per hour average
Includes custom baskets with doors for ease of passenger loading and unloading
Travel expenses are additional, if travel is necessary
Each ride can last from as little as 1 minute up to 5 minutes in the air.  Once on the ground, the passengers are switched and the next flight lifts off.
A tethered hot air balloon is secured to the ground or structure to provide passenger flights without the balloon flying away.  Rohr Balloons is highly experienced and well-equipped to perform tethered balloon activities for many different environments and conditions.  Our experience and tether systems allow us to accomplish successful tethers to provide a safe and pleasant experience.
Rohr Balloons maintains a perfect safety record to date, liability insurance, and can provide additionally insured certificates upon request. 
A tethered  hot air balloon is perfect for entertaining large groups of people at events such as wedding receptions, college events, private parties, company picnics and community festivals, just to name a few.  Advantages and details of tethering a balloon:
A 75′-85′ tall balloon carries multiple passengers at a time up to 100′ off above the ground
Tethered rides scheduled morning and evenings (within 2 hours of sunrise/sunset) when winds are the calmest
Create a memorable glowing exhibition as tethered rides can continue after sunset
Increase advertising at a grand opening or special promotion with a special banner and tethering at a high traffic location (add link to advertising page)
Tethered Advertising 
with Rohr Balloons at your grand opening, special promotion, or tethered at a high traffic intersection, a hot air balloon will inspire a memorable brand impression. Tethered balloons are capable of being anchored down to the ground or floating above the rooftops.  When inflated after dusk, the balloon has it's own night time illumination, actually lighting up the sky.
Please allow as much advanced notice as possible if you need to cancel your flight. A cancellation fee may be charged for cancellations with less than 72 hours notice or failure to show the day of the flight.
Please review all requirements listed below thoroughly before signing your agreement. If all requirements cannot be met, there may be an alternate solution with advanced notice.
Tether site should be a grassy or paved area, relatively level in slope
Balloon requires a minimum of 150 ft radius of unobstructed tether space
Tether site should be clear of obstructions, such as light poles, trees, buildings, etc
Power lines should be a minimum of 250 feet from the balloon
Balloon tether requires four tie-down anchors around perimeter, such as light pole bases, mature trees or vehicles. Tether operator may supply either one or two vehicles for tie-downs, depending on agreement
Vehicles must have access to drive on-site
Optimum tether site is in a relatively low-lying area to help minimize the effect of high winds on the balloon
10% non-refundable deposit is required to schedule a tether
Two volunteers to assist with security and passenger handling
Table, chairs and water for volunteers
Additional tie-down points for balloon (see image above)
Operator arrives 1-2 hours prior to start of tether to set-up
Tether operator will arrive with a ground crew and commercial pilot to operate the balloon
Set-up usually requires 30-45 minutes once on-site
The ideal set-up is a recently mowed grassy field
Take-down usually requires 30-45 minutes from deflation of balloon
All tethers are performed at the discretion of the pilot in command and could be delayed/cancelled on-site due to weather/site conditions
Hot Air Balloons cannot safely carry passengers in winds over 8 mph. Tethered balloon rides are ideal with calm winds not exceeding 6 mph
If winds exceed the maximum for passenger carry, or gusty wind conditions exist, hot air balloons may be able to inflate without passengers for display purposes
Should the event be postponed due to weather or other circumstances prior to balloon team travel, tether may be rescheduled without additional costs (Pilot to consult with client prior to mobilization)
If balloon team mobilizes to the tether site but is unable to tether due to weather or other reasons out of the operator's control, purchaser is responsible for 50% of the cost of tether, plus travel expenses
"Hot Air Balloon Tether at Georgia's Berry College was a Huge Success!"
"There could not have been a better response to the rides. Everything about Rohr balloons was superb. They were on time (actually early), professional, and were very flexible with having to move locations when one proved to not be the right area. The balloon actually ripped on a tree, but they were super flexible and were able to have a new balloon up in just under an hour. We probably had over 300 people ride the balloon throughout the night. Thank you for such a wonderful event. We will definitely be looking into bringing this balloon back year after year for this event. I also filled out the campus activity card."